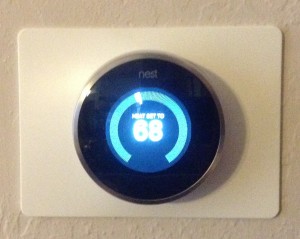 This Christmas I received a Nest thermostat — pretty awesome step up in technology compared to the 1994 era Honeywell thermostat we were still using!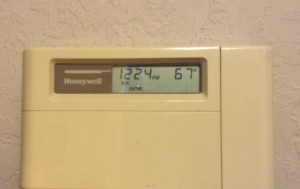 The instructions were very straightforward. Our old thermostat used 3 wires from the furnace — G, W, and R. G controls the fan, W controls the gas valve, and R is power. Missing, however, was a C or common connection — though the Nest is supposed to support systems that don't have one.
All seemed to be well the first evening and night. My son and I configured it to connect to our wireless network, set the Nest's various settings for heating type and so on, and installed apps on our phones and iPad.
The next morning, the heat came on for a few minutes, and then mysteriously stopped. I heard it try to turn on shortly thereafter, which resulted in a disconcerting series of repeating aborted heating cycles of a few seconds each (whoosh! click! whoosh! click! whoosh! click!). Time to investigate!
Searching their support forums turned up a likely culprit — the lack of a C connection.
Unlike the old Honeywell, which ran from a few AA cells for a few years at a time, the Nest has a non-replaceable internal battery, which it needs to keep charged somehow. If your thermostat wiring provides R and C (which basically tie to two sides of a 24 volt AC transformer in the furnace), then it uses those to keep the battery charged. Without C, the Nest has clever circuitry which is supposed to fake one using G and W as current return paths. Unfortunately, this bit of cleverness failed in my case, and the Nest did not work well.
Luckily, being pack-rats, we never throw anything away, including the manual for the furnace. A cursory glance turned up no C connection per se. However, after studying it for a while, it became clear that chassis ground and Earth ground were both tied to one side of the 24 volt transformer, and the R wire went to the other side. Bingo!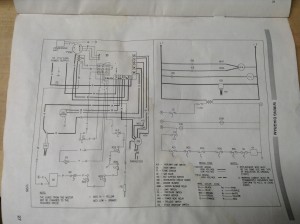 I turned off furnace power and took off the covers of the furnace, then traced the wires. This unveiled a ready-to-be-used blue wire running to chassis ground, right by the other wires connected to the thermostat cable. Luckily, that cable had a few unused wires, so I picked the brown one to run the new C line. I then connected it to the C terminal on the Nest, closed up the furnace, and turned furnace power back on. A quick inspection of the Nest wiring screen confirmed that the Nest automatically detected the new C line.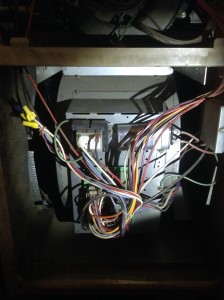 I tested the furnace a bunch of times that day, and the problem was solved. Phew.